Waterproof magnetic cable connector for Pet wearable products
CM-BP73211-02150H0A

Current

Voltage

Magnetic force

Contact force

Life test

Color

2A

5V

300g

70g+/-20g

50,000cycles

Black

Company Profile:
1) Over 14 years' experience in manufacturing magnetic connector ,magnetic connector with USB cable. we own more than 8 items national patent of magnetic connector and have more than 60 kinds of magnetic products solutions in independent research and development.The highest life test has up to 1000,000 cycles, can custom various shapes, small structure and high current (2-30A).
2)
Our
factory has been accredited the ISO9001: 2008, ISO-14001 certificate, spring loaded connector accord with HF, RoHS, REACH standard.
3) 100% electrical test provided on function before delivery.
4) We believe that: "Quality to win markets, improvement to win progress".
Welcome customers all over the world come to our factory to give guidance for development.
Strict test project of connector:
Mechanical performance test:

1) contact retention force

2) normal force, durability

3) Life testing

Electrical performance test:

4) insulation resistance

5) dielectrics withstanding voltage

6) LLCR

7) temperature rise

8) salt spray

9) humidity

Environmental performance test:

10) vibration

11) shock

12) temperature
Magnetic connector Application:
1)SmartBand/SmartWatch/Blutooth and other wearable electronics;
2)Tablet PC/Latop/Mobile phone;
3)Small appliances/Smart home/Voice box LED flashlight/Headset;
4)Medical device product;
5)Coffeemaker/Dancing machine;
6)Smart fragrance lamp;
7)Pet tracker/Prevent loss tracker;
8)Adult Products
9)Industrial Robot
10) Childrens Toys
11)Electronic cigrette etc.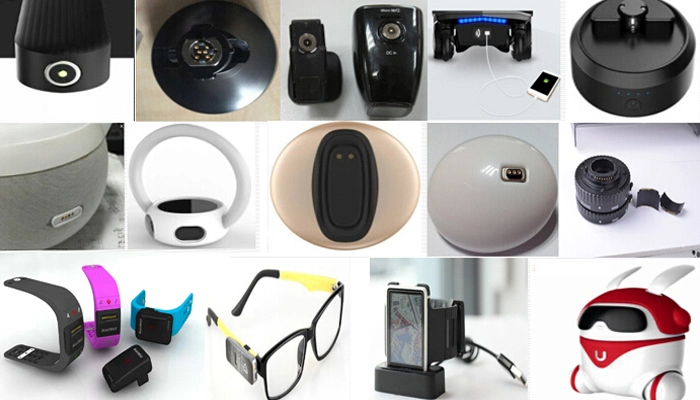 Magnetic connector advantages:
1) Humanized design automatic adsorption connected experience; Easy operation;
2) Uses a magnetic interface to remove the device easier.
3) Operate in a long life cycle. It supports 100,000-200,000 reattachment life times;
4) You can achieve excellent waterproof design, the host female can achieve dustproof and waterproof (IPX8)
5) Save space, the female with PCB adapter can reach pogo style and SMT DIP bonding jumper connection;
6) Support a high current (5A-10A), faster recharge, with less operating time;
7) Excellent corrosion rating (48H-120H) meet the harsh environments;
8) Shape customized to meet with product shape matching,improve product selling point;
9) Magnet positioning, use of magnets and structure to dual circuit protection reach distinguish the direction( It is user-oriented and user- friendly;
10)Excellent scalability interface,Can be achieved(Power Signal Video Audio Jack Etc);
11)Development time is short, low-cost mold for customization;
12)Provide a reliable high RF signal transmission. Our connector is USB 2.0 and HDMI 1.3 certified.
Factory Picture:


Patent: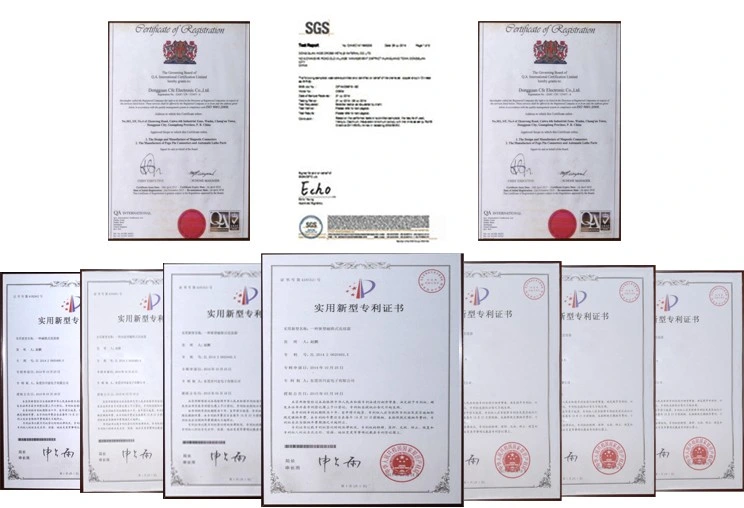 Cooperative Partner: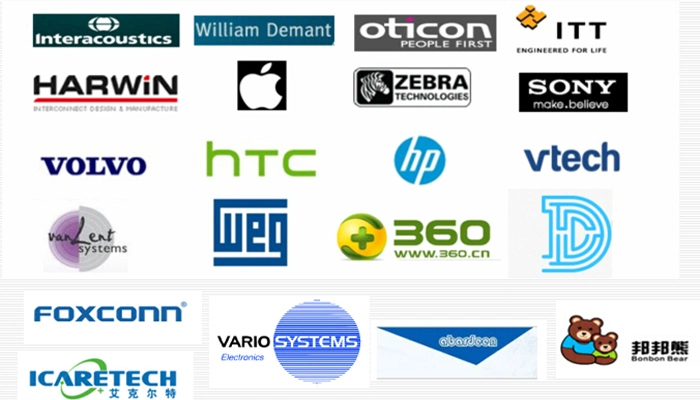 More details:
Delivery Terms

EXW,FOB,CIF

Payment Terms

T/T ,HSBC,PayPal,Western Union

Shipping Method

UPS,DHL,TNT,EMS,Fedex

Lead time

Sample time:7-10 working days




Order time:15-20 working days